Inspiration Behind the Leader
Inspiration Behind the Leader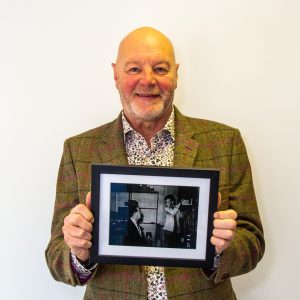 My father was just 52 when he died – younger than I am now. I was 14. Battling to follow in his footsteps nearly cost me everything – including my life.
Now I've learned from his mistakes, and mine too, I'm passionate about ensuring other business owners avoid the pitfalls that too often accompany success.
After all, if growing a business doesn't give you a better life, why do it?
No doubt my father thought he was working to give us a better life too, but really, as his family we were collateral damage. Yes, I had a private education and wanted for nothing – a far cry from his early years down the pit – but the tragedy is that we were strangers to each other.
There used to be a plaque on my wall that said 'Businesses that are out of control are ruthless. They will tear your life up'.
It tore mine up. It robbed me of the influence of and closeness with my dad. And although I think that business can be unbelievably beneficial, in the wrong hands it can be a lethal weapon.
William Kinnery, known as Bill, was an invalid for most of his childhood: polio, I believe. He didn't go to school much and had to teach himself to read.
While most children in his community went down the pit, he didn't last long in that environment, and was fortunate enough to take up an apprenticeship as a plumber's mate.
By the time I came along, he had a general dealers in Blackhall that sold everything from sofas to paraffin heaters.
His business breakthrough came from supplying gas cookers to all the miners' houses; he used to sell the cooker on tick, install it in the scullery between the house and the outside, drill a hole in the wall and put the bottle of gas outside.
As the domestic market waned – Peterlee new town meant that houses were built with indoor toilets, kitchens, plumbing plus gas and electricity – a whole commercial and industrial market opened up and he ended up with a fleet of wagons and quite a sizable business.
I suppose that's where my passion for business, to be my own boss, came from, but to be honest, I don't have many memories of him.
That's mainly because, as I was growing up, I didn't see a lot of him – he was a business owner, out trying to grow his business.
I was always aware of his career; I was no stranger to work but Dad always worked for himself, which meant working harder, longer and under more stress than most of my contemporaries' family did.
So generally, he wasn't at home when I got home from school and pretty often, he was still out by the time I was put to bed. On a weekend he was either working or playing golf.
Then, when I was 14, he died.
From that moment on, it was made clear to me I was the man of the house; immense pressure on me from just 14 years old.
I wanted to take the family business on, but I was too young and I had to finish school. By the time that was done, Mam had tried and failed to keep the business going.
Instead, I ended up going to university and then getting a job; I knew I had to get ahead if I wasn't going to live in the squalor of the North East at that time.
I was unbelievably ambitious, but, if I'm honest, while I knew how to manage a business, I had never learned how to manage myself.
My first step on the corporate ladder came as a graduate management trainee in the motor industry. I excelled, and was made MD of a multimillion turnover business at 29. I was always looking for the next role, the next challenge, dragging my wife and home from Darlington to the Midlands and then to Scotland.
In the next four years, I went on to be MD of some significant businesses, including Europe's biggest Mercedes Benz dealer in Glasgow, which was unionized, corrupt and losing money in the 1990 recession.
As well as turning that around I was also negotiating to borrow several million and buy and build my own Vauxhall Dealership. Kinnery (Stockton) opened on Preston Farm in 1993.
By 1997 the business was doing well – but I wasn't.
The stress of battling and pushing and striving since 14 led to severe mental health problems. I was obsessed with work and couldn't let go, thinking I had to – and could – do everything myself. It came to the point where I could only see one way out.
My success came at the cost of my health, my house, my marriage, my self-esteem – and nearly my life.
There was nobody in my corner to share this stuff with. My tactic from an early age was to be tough and carry on because I'm Northern and a man – however this tactic can't work indefinitely, although it took ending up in a mental hospital for me to figure that out.
I don't want anyone else to end up in the situation I've been in, which is what led me to coaching. And I also recognise that asking for help is never easy; it takes humility and courage to tell a relative stranger you're struggling.
Every business owner's journey is a story, with them as the hero. I see my job as making sure it has a happy ending.
My mission is to help people grow so that they can handle life as a business owner better and more successfully. I've been there, done that and have the battle scars to prove it, meaning I come from a place of honesty, empathy and experience.
I've always been fascinated by business and people, and the science of high performance, thanks to the conversations I used to overhear between my dad and his contemporaries
I literally fell into something that I was eminently suited for and fascinated by; I believe I have found what I was put here to do.
It would be easy to blame my upbringing for everything that went wrong in my life – you know what they say about the sins of the father – but, in truth, I wouldn't be the man, and coach, I am today if it weren't for everything I've been through.
In reality, I don't think of him very often; it has been over 50 years since he died and I don't feel I ever really knew him. The tragedy is that we were strangers to each other, as is so often the case when we are trying to grow our businesses.
However, I use his photograph in presentations to remind me of why I do what I do and why it is important that I am bloody effective.
If I could speak to him one last time, I would like him to know me, who I am, what I do and why I do it.
I would hope he would be positive and supportive and I would be delighted if he could see the importance of the work I do – I know that I do.